back to full list of Eat and Drink
Eat and Drink
The Old Ship
A traditional Inn serving homemade good food and real ales by an open log fire.
View our Menu

** Please note that we are unable to accept table bookings via e-mail. If you wish to book a table please telephone us. **

The Old Ship lies at the heart of the village of Trefriw, in more ways than one. Not only is The Ship conveniently located in the middle of the village, it is also the central meeting place for the residents of the village.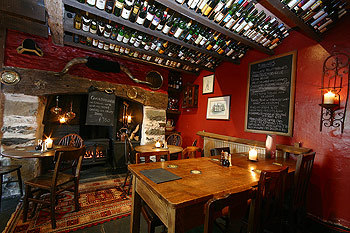 A warm welcome awaits all who step through the door, along with a great menu and bar catering for everyone. The Old Ship is a member of CAMRA and features in "The Good Beer Guide"
Tafarn traddodiadol yw'r Hen Long yn cynnig bwyd cartref, cwrw da a chroeso Cymraeg i bawb..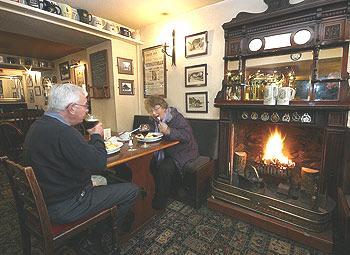 At The Old Ship, all our fantastic meals are prepared to order using as much local produce as possible. Regular favourites are the Half Shoulder of Lamb and Maralyn's Sausages from the butchers across the road.

We have 2 Family friendly eating areas, and groups of more than 10 are advised to book ahead. Please call 01492 640013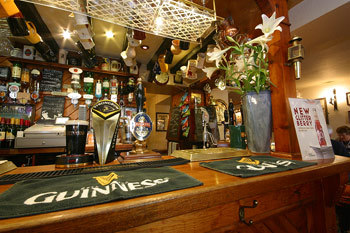 The Old Ship is a "Free House" and Proprietor/Chef, Rhian Glyn Barlow (a real ale drinker and member of CAMRA herself), always has at least 3 cask ales on tap.

Bank's and usually one or two local beers e.g. Rwster from Nant brewery in LLanrwst or Glaslyn from Mws Piws Porthmadog. There are 4 local breweries that we use.

There is also an extensive wine list and a wide selection of malt whiskies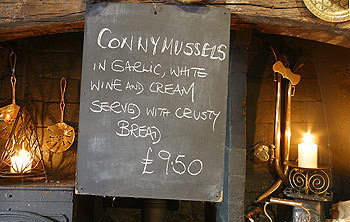 The Old Ship is in the beautiful village of Trefriw, set into the heavily wooded eastern edge of the Snowdonia National Park. A walkers paradise, there are 11 tranquil lakes in the hills above the town, including three large ones. Crafnant, the prettiest has excellent Trout fishing. Geirionydd, the birthplace of the mystical Taliesen ( the inspiration for Merlin) is used for watersports. Cowlyd, high above the treeline in bleak moorland, offers stunning views of the valley below.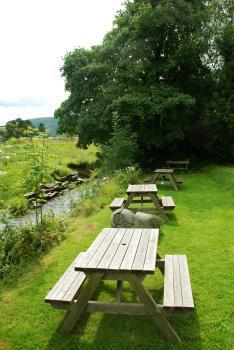 Trefriw is an excellent base stay(avoiding the more busy and commercial resorts) and to explore the rest of the popular attractions of Snowdonia and North Wales.
The Old Ship Statistics: 174 click throughs, 2831 views since start of 2023
Eat

Pub with food

Real Ale. Snowdonia
Opening Times
Tuesday to Thursday: Pub open 12p.m. tilll 3pm then 6pm till 10.30 ( food served 12pm till 2.30pm and 6pm till 9pm)
Friday: Pub open 12pm till 3pm 6pm till 11pm (food served 12pm till 2.30pm and 6pm till 9pm)
Saturday and Sunday: Pub open 12pm till 11pm ( food served all day 12pm till 9pm)
Closed Monday's except for bank holidays.
Contact Details
phone:

01492 640 013
fax:
Owner/Manager: Rhian Glyn Barlow.
The Old Ship
Yr Hen Long
Trefriw
Conwy
LL27 0JH
Conwy
News and Special Offers
View our Menu

** Please note that we are unable to accept table bookings via e-mail. If you wish to book a table please telephone us. **